Designed to fit under the seat in front of you, this designer under seat luggage is stylish, practical, and packed with nifty features. With enough room for a few days worth of clothes, toiletries, and travel essentials, it's an excellent alternative to checking in luggage and dealing with the airline baggage fees.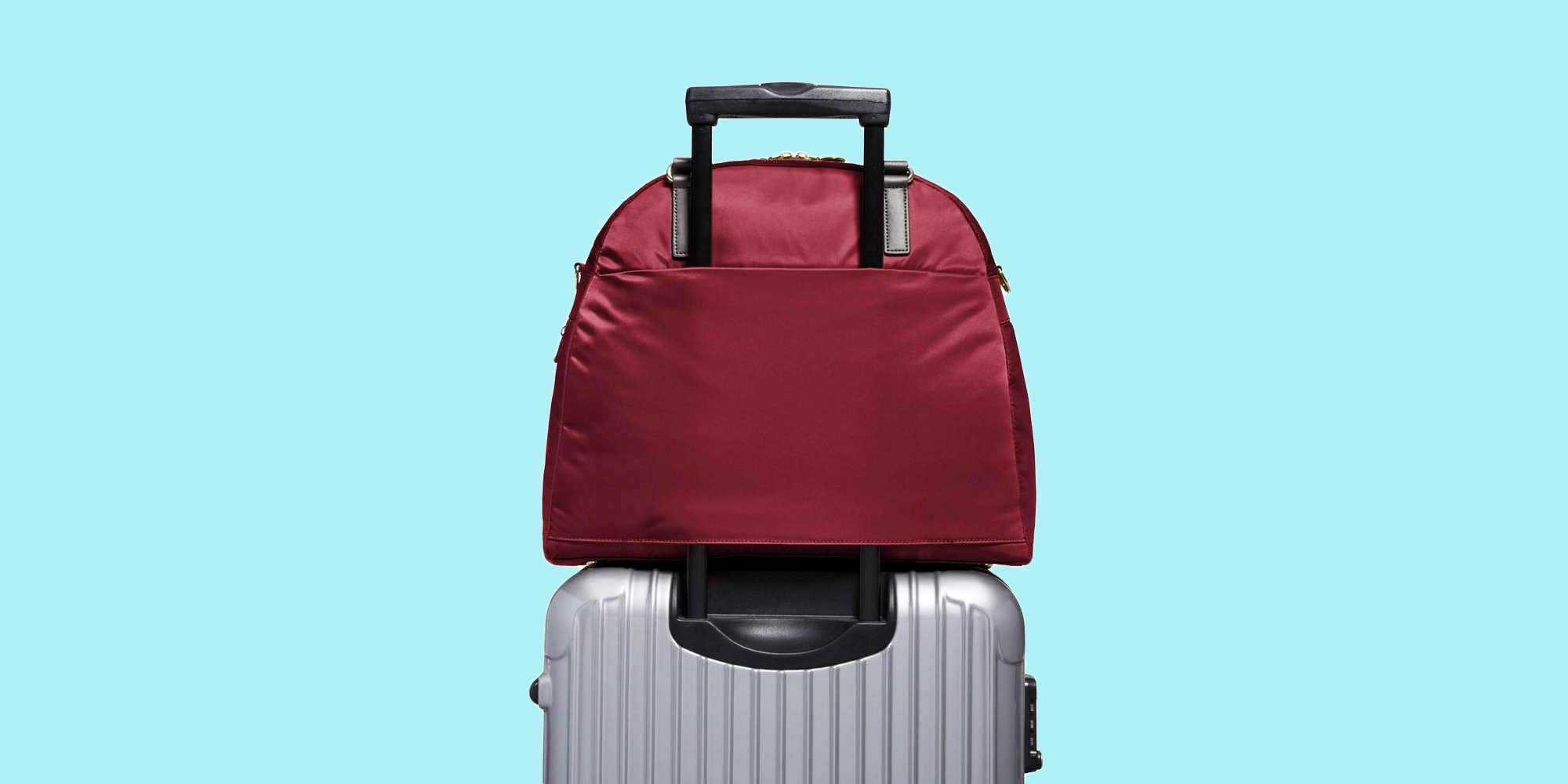 Underseat Cabin Bag
Almost every airline allows passengers to bring two personal items onboard, but you must store them under the seat in front of you (unless you're sitting in a bulkhead). Plenty of great luggage options meet FAA requirements for under-seat luggage. These bags come in various styles and sizes so that you can choose the right one.
This under-seat cabin bag from Lilly Bloom fits under most seats and comes in a wide array of dynamic patterns to show off your personality to your flight mates. It has plenty of interior and exterior pockets to keep you organized, but it's still compact enough for an overnight trip or weekend getaway. It's also a lightweight choice at just 4 pounds.
The groovy throwback style of this Italian luggage from Bric's makes it a fun choice for under-seat travel, but the sleek design doesn't sacrifice functionality. It has a large main compartment that can easily fit an overnight outfit and plenty of storage pockets, including a separate shoe pouch. There's even a trolley sleeve on the back to attach it to a rolling carry-on suitcase. The bag also meets most airlines' seat size and weight restrictions.
Underseat Luggage With Wheels
Designed to slip under the plane's seat in front of you, this under-seat luggage is ideal for those who want to avoid checked baggage fees and limited overhead space. The bag opens to reveal a spacious interior that fits all your clothing, shoes, and toiletries. It also has a zippered pocket for damp or soiled clothing and several exterior pockets to store valuables. Weighing just 5.9 lb, it's the perfect size and weight for those concerned about adhering to airlines' strict baggage restrictions.
This under-seat luggage is crafted from a high-quality polyester fabric with a chevron-quilted interior and efficient organizational compartments. The wheels are smooth and sturdy, and the telescoping push-button handle extends from a locked position to a fully developed length. The design of this under-seat suitcase is elegant and sophisticated, and it comes in a range of colors to suit all tastes.
This under-seat luggage is made by the luxury luggage giant Samsonite, and it's rated highly by customers for its spacious dimensions and fashionable look. It's constructed from a hard-wearing nylon and polyester fabric resistant to dirt, water, and wear, making it durable enough to last for years of travel.
London Fog Underseat Bag
This London Fog luggage option is stylish, functional, and lightweight, designed to fit under the seat of low-cost airlines such as Easyjet and Jet2. Despite its small size, it boasts impressive organization, with pockets on all sides, a large zipper pocket on the front, and a padded laptop sleeve on the back. One reader who packed in this bag reported being able to fit three outfits, shoes, an iPad, and a raincoat, with plenty of room left over for a few more shirts and pants.
The dimensions of this suitcase are 15″ x 11″ x 9″, making it an excellent choice for under-seat luggage. It weighs just under 6 lb, well within most airline baggage restrictions. The outer shell is made from a travel-ready 1680 Dernier polyester, which is durable and resistant to abrasion.
The wheels on this luggage are inline and made from polyurethane, providing a smooth, effortless rolling experience. There is also a stability bar at the bottom to help prevent the bag from tipping over when its handles are not holding it. This suitcase is backed by London Fog's lifetime warranty, which covers any damage or defect that may occur during normal use.
Best Underseat Luggage
The best under-seat luggage is small enough to fit beneath airplane seats while containing all your essential travel items. You can fit personal items such as a laptop, e-reader or tablet, books, magazines, snacks, medicine, sleep mask, and headphones in an under seat bag, making it easier to access those items during the flight without having to stand up or wait for the overhead compartments to open.
This under-seat luggage has the same dimensions as most carry-on bags and is lightweight enough to carry onboard easily. It is the perfect choice for a 1-2 day trip or a business traveler who doesn't want to pay extra baggage fees for a bigger suitcase.
This under-seat luggage has a great price tag and the same clever features as more expensive models. Our readers love that it has a front zipper pocket, easy access side pockets, a 3-height telescoping handle, and an interior divider. It is made from durable travel-ready polyester and backed by a manufacturer's 10-year warranty. This under-seat luggage is also available in various fun prints and colors to suit your style.
Under Seat Luggage Size
The main advantage of under-seat luggage is that it gives you extra storage space without worrying about securing overhead bin space on crowded flights. It's important to note that different airlines have varying dimensions for under-seat luggage and may charge you for bags that don't comply with the size restrictions. So, check your airline's specific carry-on and personal item policies before deciding which bag to purchase.
This under-seat suitcase by Samsonite fits most airlines' dimensions and comes with a telescopic handle for easy maneuvering during your flight. It has multiple pockets, a laptop sleeve and weighs less than 5 lb making it an ideal choice for adhering to limited baggage allowance.
Another great option is this under-seat cabin bag by Bagsmart, with a roomy main compartment that can fit a few packing cubes and shoes. It also has a separate pocket for holding your water bottle and weighs only 6 lbs. One reader said it "fits under the seat perfectly," they packed an iPad, a rain jacket, two pairs of socks, three shirts, and a dress.
Underseat Carry On
If you want to avoid the hassle of stowing your luggage in the overhead bins (which vary from airline to airline) and keep it under the seat in front of you, this eye-catching option is perfect. The quilted design looks sleek and stylish while securely storing your clothing and other travel necessities. This under-seat carry-on has a large main U-shaped opening and multiple zippered pockets inside and outside. It is spacious enough to hold three days' worth of clothing while remaining compact and fitting well under most airlines' seat dimensions. Plus, it weighs a featherlight 5.9 lb.
This wheeled under-seat carry-on is a good option for frequent travelers who want to avoid stowing their luggage in the overhead bins. The suitcase has a large main compartment separated into two smaller sections for clothes and electronics. There is also a separate shoe pocket, a padded laptop sleeve for your computer or tablet, a front zipper pocket, and a velcro loop on the back to attach to other luggage.
The bag is a little bigger than some of the other options on this list but still under the seat size requirements for most airlines. The carry-on size limits may differ if you fly internationally, but this bag will easily fit most US airlines.
Samsonite Underseat Spinner
If you need to beat overhead bin fees and more packing space beside your checked bag, this under-seat spinner suitcase might be your solution. This stylish vintage-style bag is easy to maneuver and has enough room for most travelers to fit a week's worth of clothes and essentials.
It's also lightweight and comes with multi-directional spinner wheels that make it a breeze to roll down the aisle of the plane or train. The ergonomic locking handle is a nice touch and stores easily in the zippered compartment when not in use. The spacious main room has a padded laptop sleeve to protect your electronics from bumps and drops.
The front pockets are ideal for organizing smaller items like a deck of cards or headphones, and there's even a hidden ID tag pocket to keep your name discreet. This under-seat suitcase has earned nearly 4,000 five-star ratings, and shoppers have reported that it can accommodate most of their travel needs.
The only downfalls for some might be the lack of a shoulder strap and the fact that this under-seat suitcase isn't made of ballistic nylon like other Samsonite luggage pieces. However, the price is reasonable, and a 3-year manufacturer warranty backs this luggage.